How To Kiss Your Wife Again When She Won't Kiss You Back
I recently received a letter from a student, Michael, who is having a challenge when it comes to kissing his wife. When he "makes his move", she rejects him… she pulls away.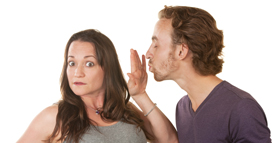 Michael said that when his wife rejects his kisses, it feels like there's an elephant on top of his chest. He describes his feelings of shame as turbulence — like he's on an airplane and the airplane turbulence is shaking him apart. When your partner doesn't want to make out, you can feel an overwhelming sensation arise inside your body. There's a strong sense of being disconnected, cut off, alone.
Fortunately, I have good news for Michael and for you. In this article we'll discover the 3 reasons she doesn't want to kiss you, what to do when she resists and the best kissing moments. After all, hot kissing is the foundation of a deeply intimate connection.
Why Your Wife Still Wants to Kiss You
Even though your partner is the one avoiding you, she is also feeling the same disconnection you are. Why? Because every human desires the bond of coupling. Your efforts to get her back in your arms will not only help her feel connected to you, you'll increase her happiness and longevity too! How? Kissing, hugging and holding each other naturally releases the "Love Chemicals" (hormones) that bond us together and make us feel whole and happy.
If your lady no longer wants you to kiss her, there is something you can do to recreate that magical moment you once had together.
Discover How To Pull Your Wife Closer!
Discover How To Pull Your Wife Closer!
Kissing is the most personal form of intimacy, even more intimate for many women than lovemaking. Her face is her most personal and private space. What happens when she won't let you near her?
There are a few reasons why she might be resisting you and though these next few words may be hard to read, if you can't stay strong when faced with a challenge you will struggle to fix your existing problems. So hang in as I explain what happened…
If You Liked This Article You Will Also Enjoy

— Susan Bratton wants to help you enjoy more intimacy and pleasure. She champions men's rights for shame-free sexuality and creates tools and techniques that help men open intimately to their partners for more passion.
Susan is the co-founder and CEO of Personal Life Media, an online publishing company specializing in heart-centered adult sexual education home study programs. She's the creator of Revive Her Drive, an online course that helps men lead their wives and girlfriends back to more a more passionate relationship.
An internationally renowned author, publisher and speaker, Susan has won awards for her work and been featured in print, online and television in media outlets as wide-ranging as the New York Times, CNBC and Playboy radio.  Susan works with her husband, Tim, providing online home study programs for men and couples who want more intimacy and connection. She lives in Mill Valley, California.
I wanted to say a big THANK YOU… even though I'm only about half way thru all the material, it's already helping tremendously… and my wife says thank you also While I knew some of it, it was a great reminder and then there were things I didn't realize I (we) were doing that was ruining things… we were stuck in that viscous circle and was keeping us stuck there with HOW I was communicating with her. Anyway, things are much better and continuing to improve, even during what most would consider a stressful time (we just moved far from all family and friends)… so thanks again!
I'm now on the 6th interview and I can honestly say that the info so far is shocking for a man. I'm 36, been in two relationships, and after what I've heard up till now is that this stuff needs to be taught when we're young. These are very critical concepts and governing principals that I NEVER knew about. Its a lot for a guy to swallow, but I'm open to it cuz my marriage is suffering!
I was skeptical and now I'm fully convinced of your sincerity. I got connected through a trial of Revive Her Drive. I have to admit, when I received the info I felt overwhelmed and basically gave up before getting started. I was also just a little skeptical. I've been reading all the emails the last six months and I'm now fully convinced of your sincerity and desire to help others. I've been blown away by so many of things you've had to say in general about living a more fulfilled life.Thank You.
Wow, really good stuff so far. I didn't realise how resistant to being sensual that I was. Now I can see how important it is to a woman. All those times she wants me to be romantic I had no idea what she meant – now I am starting to see.
"How Can I Be More Romantic?"
How To Romance Your Wife All Over Again Part 1
Romancing your partner is a gift you give yourself too. Keeping score is fruitless — love is immeasurable. And it doesn't matter if, at first, you do "all the work" of romancing her. Keep at it and soon she will be romancing you back…